THE BAN ON LOVE
or THE NOVICE OF PALERMO
(Das Liebesverbot
oder Die Novizie von Palermo)
Grand opera (singspiel) in two acts
Text and music by Richard Wagner,
after Shakespeare's play Measure for Measure
Premiere:
19th march 1836, Magdeburg, led by the composer
Cast:
FRIEDRICH, governor of Sicily (bass-baritone)
LUZIO, a young nobleman (tenor)
CLAUDIO, a young nobleman (tenor)
ANTONIO, their friend (tenor)
ANGELO, their friend (tenor)
ISABELLA, Claudio's sister (soprano)
MARINA, novice in a monastery (soprano)
BRIGHELLA, captain of the watch (baryton)
DANIELI, an innkeeper (bass)
DORELLA (soprano)
PONTIO PILATO, Danieli's servant
Nuns, judges, guards, townspeople, musicians (chorus)
The action takes place in Palermo in the 16th century.

Duration : 5 hrs in its complete version

The Ban on Love is directly inspired by the desire felt by the composer for the young actress Minna Planer, his future wife, whom he meets this same summer 1834. It is also a piece in which the composer expresses all his hatred of hypocritical puritanism. Furthermore, Wagner expects from this work the necessary funds to replenish his personal situation.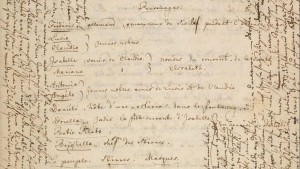 During the production (March 29, 1836) offered by Wagner in an extraordinary performance for the end of the season of the theatre company from the Magdeburg Theatre, the title will be changed to The Novice of Palermo because the title – too provocative – frightens the mayor. Wagner himself writes about this work: "This music was only a reflection of the influences of modern French music and (for the melody) of Italian opera, on my overexcited sensuality." The Ban on Love marks a regression in the work of the composer to the Italian French style of opera (one can assess it from the first measures of the Overture to it, the only extract of the opera still sometimes – but rarely – given in concert). Wagner also called his opera "the work of frivolous youth" (Mein Leben).

THE BAN ON LOVE or THE NOVICE OF PALERMO (Das Liebesverbot) 
Link to the SYNOPSIS (click here)

THE BAN ON LOVE or THE NOVICE OF PALERMO (Das Liebesverbot)
Link to the LIBRETTO (coming soon)
If you wish to share further information about this article, please feel free to contact us !