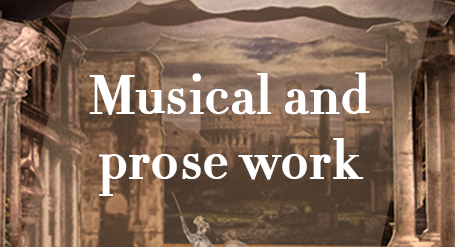 The musical work of Richard Wagner is composed of operas or "musical dramas" ranging from "Fairies" (Die Feen) to "Parsifal". A detailed presentation of each of these major works is associated here with a set of thematic articles, placing them not only in the context of his personal life but also in his social, economic and cultural context. This section also includes all the musical works (excluding opera) and his literary work.
The Wedding, WWV31
Die Hochzeit, WWV31
Unfinished opera by Richard Wagner
(Early work for the stage)
Libretto by the composer from several dramatic sketches by German author and poet Johann Gustav Büsching (1783–1829)
Only three pieces survived :
1- Introduction
2- Chorus
3- Septet

The only printed version of the surviving musical score (Introduction, Chorus and Septet) is the edition by Michael Balling (1866–1925)
Very little musicological study has been carried out relating to Die Hochzeit. 'Ada' and 'Arindal' were later used as the names of the two principal characters in Die Feen (The Fairies) (1833), Wagner's first completed opera. As there appear to be some textual commonalities with Die Feen, it is possible that substantial or substantive parts of this unfinished work may have been reused there.
Die Hochzeit (The Wedding, WWV 31) is an unfinished opera by Richard Wagner which predates his completed works in the genre. Wagner completed the libretto, then started composing the music in the second half of 1832 when he was just nineteen. He abandoned the project after his sister Rosalie, who was the main supporter and the spokesman of the family, expressed her disgust at the story. Wagner destroyed the libretto. (read more…)