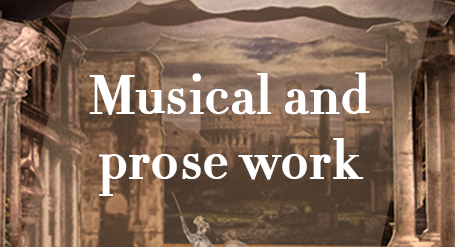 The musical work of Richard Wagner is composed of operas or "musical dramas" ranging from "Fairies" (Die Feen) to "Parsifal". A detailed presentation of each of these major works is associated here with a set of thematic articles, placing them not only in the context of his personal life but also in his social, economic and cultural context. This section also includes all the musical works (excluding opera) and his literary work.
Lohengrin, WWV75
Lohengrin, WWV75
Romantic opera en three acts
Text and music by Richard Wagner
Premiere :
28th August 1850. Grand Ducal Theatre, Weimar
Cast :
HEINRICH DER VOGLER (HENRY THE FOWLER), German King (bass)
LOHENGRIN (tenor)
ELSA OF BRABANT (soprano)
DUKE GOTTFRIED, Elsa's brother (silent)
FRIEDRICH OF TELRAMUND, Count of Brabant (baritone)
ORTRUD, Telramund's wife (dramatic soprano or mezzo-soprano)
THE KING'S HERALD (baritone)
Four Noblemen of Brabant (tenors and basses)
Four Pages (sopranos and altos)
Saxon, Thuringian, and Brabantian counts and nobles, ladies of honor, pages, vassals, serfs (Chorus)
The action takes place in Antwerp, on the River Scheldt, at the 10th century
Duration : 3.30 hrs

Lohengrin (WWV 75) is the sixth of Richard Wagner's operas and the third of the composer's operas created during his "mature" phase. Composed between 1845 and 1848, Lohengrin is consistent with the operas composed for the Opera of the Royal Court of Saxony where Wagner, who then assumed the position of choirmaster, had finally reached the status of "respectable" composer after the resounding success of the production of Rienzi, the last of the Tribunes (20 October, 1842), and the mixed success of The Flying Dutchman (Der Fliegende Holländer) (2 January, 1843) and Tannhäuser (19 October, 1845). 
It was during his Parisian stay from 1839 to 1842 and when he discovered the ancient Germanic legends that gave him material to compose his Tannhäuser that Wagner also got acquainted with the legend of the Knight of the Swan. The essential inspiration for the composer came from Wolfram von Eschenbach's Parzival (a 13th century poem that associates the chanson de geste from the Epic of The Holy Grail to the Knight of the Swan) as well as the German legends that the Grimm brothers had published between 1816 and 1818. In the different versions of the legend related to the character of Lohengrin are preponderant the theme of the Knight's mysterious origins, the prohibition against him revealing his name as well as the pain that his love feels for not being able to ask the fateful question (read more…)