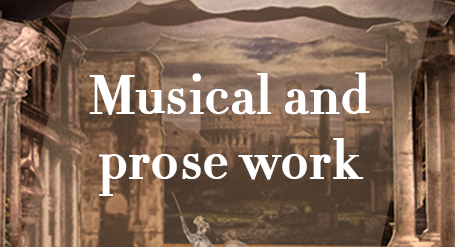 The musical work of Richard Wagner is composed of operas or "musical dramas" ranging from "Fairies" (Die Feen) to "Parsifal". A detailed presentation of each of these major works is associated here with a set of thematic articles, placing them not only in the context of his personal life but also in his social, economic and cultural context. This section also includes all the musical works (excluding opera) and his literary work.
Parsifal, WWV111
Parsifal, WWV111
Opera in three acts
("Bühnenweihfestspiel")
"Sacred music Festival" or "Festival Play for the Consecration of the Stage"
Text and music by Richard Wagner
Premiere:
26th july, 1882, Bayreuth, led by Hermann Levi
Cast:
AMFORTAS, ruler of the Grail kingdom (bass-baritone)
TITUREL, Amfortas' father (bass)
GURNEMANZ, a veteran Knight of the Grail (bass)
KLINGSOR, a magician, former-Knight of the Grail (bass-baritone)
PARSIFAL (tenor)
KUNDRY (mezzo-soprano or soprano)
First and second knights of the grail (tenor and bass)
Four squires (two sopranos and two tenors)
Klingsor's flowermaidens (6 sopranos and altos plus chorus)
Voice from above (alto)
Knights of the Grail (tenors and basses)
Boys (sopranos and altos)
The action takes place in the castle of Monsalvat in the mountains in the north of Spain, and Klingsor's magic palace in the south of Spain.

Duration: from 3hrs.40 to 4hrs.50 (depending on conducting)

Parsifal (« Sacred scenic festival » according to the designation given by Richard Wagner) is the ultimate musical drama of the composer. Composed specifically for the Bayreuth Festival where it was produced during its second edition on 26 July, 1882, the work – exclusively performed within its walls for a while- remains the prerogative of the Festival where it is performed almost every year.
Ambiguous work – opera? oratorio? or even a mass? – mixing with abundance symbolism and spirituality, the Swan Song of the master of Bayreuth is also one of the longest works of the lyrical repertoire, its duration, according to the conductors, sometimes going up to nearly five hours of music.
From his earliest years, Richard Wagner was interested in medieval legends: the ones from Tannhäuser and Lohengrin first, then very quickly he was fascinated by the quest of the knight in search of the Grail. During the summer of 1845, while residing with his wife Minna in Marienbad, the composer discovered the epic by Wolfram von Eschenbach, Parzival, in the adaptations by San Marte and Simrock and the idea of a musical drama began to sprout. However, Wagner abandoned the project for the benefit of other more popular, less mystical ones , and it was with Tristan and Isolde that the idea came back to his mind. At the moment when Tristan, in act III of the work, was dying, Wagner even considered for a while to make Parsifal appear in search of the Grail as the figure of a quest towards the absolute: Isolde, the Grail, whatever the nature of this quest … The idea was finally abandoned.
The work of Arthur Schopenhauer, and more specifically The World as Will and Representation, influenced Richard Wagner in several of his works: Tristan and Isolde of course, but also a Buddhist drama, The Victors, an apologia for supreme renunciation. The work did not see the light of day, but the idea of quest, compassion and renunciation found its way of expression and gave rise to Parsifal. If Tristan and Isolde, then The Master-Singers of Nuremberg and finally (and especially) the epic The Ring haunted the composer during the years 1858 to 1876, he never really gave up his incursion into the Kingdom of the Grail, as well as his study – a very personal one – of the medieval chanson de geste, to which he gave a new dimension, thanks to his reading of modern philosophy books (read more…)