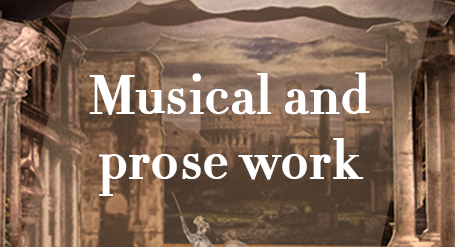 The musical work of Richard Wagner is composed of operas or "musical dramas" ranging from "Fairies" (Die Feen) to "Parsifal". A detailed presentation of each of these major works is associated here with a set of thematic articles, placing them not only in the context of his personal life but also in his social, economic and cultural context. This section also includes all the musical works (excluding opera) and his literary work.
Tannhäuser and the Minstrel's Contest at the Wartburg, WWV70
Tannhäuser und der Sängerkrieg auf Wartburg, WWV70
Romantic Opera in three acts
Text and music by Richard Wagner
Premiere :
19th October 1845, Dresden (Royal Opera House of the Court of Saxony)
[Paris version : 13th October 1861, Paris (Académie Impériale de Musique, Salle Ventadour)]
Cast :
HERMANN, Landgrave of Thuringia (bass)
TANNHÄUSER, a Minnesinger (tenor)
WOLFRAM VON ESCHENBACH, a Minnesinger (baritone)
WALTHER VON DER VOGELWEIDE, a Minnesinger (tenor)
BITEROLF, a Minnesinger (bass)
HEINRICH DER SCHREIBER, a Minnesinger (tenor)
REINMAR VON ZWETER, a Minnesinger (bass)
ELISABETH, the Landgrave's niece (soprano)
VENUS, Goddess of Love (mezzo-soprano)
A YOUNG SHEPHERD (soprano)
FOUR PAGES (soprano, contralto)
Nobles, knights, ladies, pilgrims, sirens, naiads, nymphs, bacchants (chorus) ;
In Paris version, also the Three Graces, youths, cupids, satyrs, and fauns
The action takes place in Eisenach, Germany, in the early 13th century.
Duration : approx. 3hrs. 20

Tannhäuser and the Minstrel's Contest at the Wartburg (WWV70) is the fifth of Richard Wagner's operas, namely the second of the composer's operas created during his "mature" phase. Composed between 1842 and 1845, after the mixed success received by The Flying Dutchman (Der Fliegende Holländer, WWV 63), Tannhäuser was conceived to be presented at the Opera of the Royal Court of Saxony where Wagner then performed the duties of choirmaster.
The idea was born when he was in Paris, while he unsuccessfully tried to convince the direction of the Paris Opera to agree to stage Rienzi, and then The Flying Dutchman.
Indeed, he had been offered by his philologist friend Samuel Lehrs, also in exile in Paris, a number of collections gathering various popular legends inherited from ancient times, this brilliant intellectual who graduated from the University of Königsberg knowing the composer's tastes in terms of history and legends. (read more : Tannhäuser and the Minstrel's Contest at the Wartburg in short, clik here)