OUR LAST ARTICLE
by   Nicolas CRAPANNE

Richard Wagner's musical work inspired a colossal number of filmmakers who drew from the immense repertoire of the Master of Bayreuth material to musically illustrate their works.
From the hugely famous "Ride of the Valkyries" in the style of Francis Ford Coppola in "Apocalypse now" to "Siegfried's Funeral March", true leitmotif throughout "Excalibur", the medieval epic by John Borman, the list of films really producing Richard Wagner's music on screen would be too long to enumerate.(read more…)
(SECTION IN PROGRESS)
INDICATIVE SUMMARY
The following articles will be presented in English in the course of 2017.
In the meantime, we invite you to discover the articles in French, by clicking directly on the article concerned.
RICHARD WAGNER'S WORK LEGACY
RICHARD WAGNER'S WORK INFLUENCE THROUGH THE ARTS
RICHARD WAGNER'S MUSICAL INFLUENCE

In Germany
Richard Strauss, Engelbert Humperdinck, …
In France
Ernest Chausson, Claude Debussy, Vincent D'Indy, …
And elsewhere, in Europe
In Russia, in Bohemia (Bedrich Smetana, Anton Dvorak), …
RICHARD WAGNER FACING HISTORY
RICHARD WAGNER, IDOL OF THE THIRD REICH… AGAINST HIS WILL
– Richard Wagner's and his work… dreamt by Adolf Hitler;
– The musical and cultural policy of Nazism;
– Bayreuth, more than a Festival, a temple, an ideology;
– Against Nazism: anti-Wagnerian reactions before, during and after the war.
RICHARD WAGNER, EMBARRASSING FIGURE OF HISTORY IN GERMANY
– When there were two Wagners: the one in FRG and the one in GDR.
WAGNER AND SOVIET RUSSIA
– When the work and figure of Richard Wagner found a new meaning in Bolshevik Russia;
– Wagner and the Communist Cultural Revolution: the problem of the ideology;
– « Wagner among the Soviets » (Fr)
WAGNER AND POLAND
– The reception of Richard Wagner's music and thought in Poland during the communist era.
WAGNER AND ISRAEL
– « Between fascination and censorship, when Art endures History ».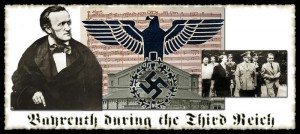 THE WAGNERIAN COMMUNITY
WAGNER TODAY
The various artistic and musical projects relating to the art of Richard Wagner today.